IT Services for Dental Providers
Instant Quotes & Consultations. Find Out How We Can Help Your Business Today!
Dental IT Services
When it comes to running a dental practice in California, you've got plenty on your mind.
From booking new patients to following up with existing patients, and managing all of their records, you might sometimes feel that you went to dental school only to become a glorified archivist. So when your computer network starts to act up, and your technology is on the fritz, you likely feel more than a little overwhelmed.
Fortunately, you don't have to worry about it anymore when you work with the pros over at Tech Rockstars, Inc. Not just a managed IT service, our team of qualified technicians serve dental practices all over California, including Monrovia, Burbank, Glendale, Pasadena, and Sherman Oaks. We can address all of your IT needs, and proactively manage any issues before you even become aware of them. You help your clients share their smiles with the world, let us help you keep a smile on your face all day with our complete suite of managed IT services.
The Issues Your Dental Practice Faces
The Tech Rockstars have worked extensively with dental practices, and so we understand your pain points and frustrations. For any IT issue you might face, we've got an easy fix. Just see for yourself! Here are the most common complaints we hear from our dental partners and how we address them.
We Can't Reach Our IT Services When We Need Them Most
Your patients know that they can rely on you when they're struggling with a dental problem, so you should have that same level of trust in your IT service. But if you call them and the phone rings and rings with no resolution, you're left feeling frustrated and unsatisfied. We understand that feeling, so we offer our premier on-site services.
Each and every one of our technicians are trained in a wide variety of troubleshooting skills that can address any immediate and systemic IT issues you might be facing. We're happy to stop by your practice in person and work with you and your staff one-on-one to identify, diagnose, and solve the problem. Don't need us there in person? No problem, with remote response, we can work with your IT system remotely to get you back in working order.
We Can't Find Our Records
Perhaps one of the greatest challenges that dental practices all over the country have faced in the last few years is the transition from paper records to digital ones. With a myriad of different file types, sizes, and formats, it can be difficult to store these digital records for the long-term. We recognize the enormous value of your files and data, so we offer our data backup and recovery services.
Data can be lost in any number of ways. It's entirely possible that an employee might accidentally, or even deliberately, delete a swath of precious information. With the increase in the number of hackers, viruses, and malware attacks, your private data is at more risk of being stolen than ever. And if your hardware fails, like servers and drives, it can result in a devastating loss of data. Fortunately, we can assist you in all of these instances by creating a regular backup schedule, storing your information off-site on our servers, or even establish a cloud storage network for you so that you can access your most important files anywhere you need them.
Our IT Guy Is Too Expensive
No matter what industry you're in, everyone is looking for ways to get the most bang for their buck. When it comes to dental practices, you know that you can pass those savings onto your patients in the form of better equipment, wider service offerings, and so much more. So when you find yourself spending hundreds, if not thousands, on recurring IT issues, and your current service just isn't addressing the problem, you can start to wonder what you're really paying for.
We put your needs and interests first. It's why all of our managed IT services are priced affordably, and we build service packages that are meant to work for you and your budget. The Tech Rockstars are happy to sit down and build out a custom service package that is priced right and still keeps your business running smoothly.
At the end of the day, we here at Tech Rockstars understand when it comes to your work, and your IT service, you're looking to save time, money, and effort. Lucky for you, we can help you do just that.
Dental Compliance and IT
Every industry has its own sets of rules, regulations, and nuances. And for each of those nuances, there's a whole slate of IT concerns and issues to go along with them. This is just as true for large corporations as it is for local dentists in Monrovia too. As a dentist, you already know about the Health Insurance Portability and Accountability Act, which is meant to protect the private data of your practice and your patients.
While you may know about the concept of HIPAA, what you may not know is if your IT network and computer systems are HIPAA compliant. We understand that you've got a lot to manage while running a dental practice, but your IT shouldn't be pushed to the back of your mind. Failing to maintain compliance could result in a host of penalties and fines. That's why it's important that your dental practice work with a managed IT service in order to keep your technology safe, secure, and HIPAA compliant.
What Does HIPAA Cover?
Essentially, HIPAA covers the storage, use, and disclosure of a patient's health information, or PHI. For many, their minds might immediately jump to the myriad of files, scans, and images that make up each patient's file within your hard drive or other storage solution. However, HIPAA also includes emails and text messages that are sent from your office to your patients, within your practice, and from your personal and work computers.
The Results Of A HIPAA Violation
With the increasing reliance on digital technology and using the internet to share files and data, there are more opportunities for your dental client's PHI to be stolen or shared negligently. While many smaller practices believe that they might sneak under the radar if they violate HIPAA by losing or inappropriately sharing PHI, but the fact is that no business, no matter their size, is beyond the scrutiny of HIPAA compliance officers. Health and Human Services is allowed to audit your practice at any time, even if there haven't been any complaints lobbied against you.
What happens if your dental practice violates HIPAA? You could face a minimum fine of up to $50,000 per violation, and there is a possibility of jail time as well. In some cases, practices have faced fees and damages costs that add up to nearly $1.5 million, all because of one privacy violation. Not only that, but your practice's name is released for public viewing. In effect, your business is hung on the wall of shame, letting everyone know that you mismanaged others' private data. Not only will you face penalties for violating HIPAA, but the reputation of your business may suffer as a result.
HIPAA Compliance and Digital Security
You may be familiar with HIPAA already, and you may have a sense of what you think you need to do to stay compliant. But following just any checklist on the internet may actually lead you astray. That's why it's important to work with an IT partner that knows HIPAA compliance inside and out and can make sure that you stay compliant without issue. Tech Rockstars has carefully studied HIPAA compliance policies for dentists, and we've created a tailored suite of services and products that effortlessly keep you compliant.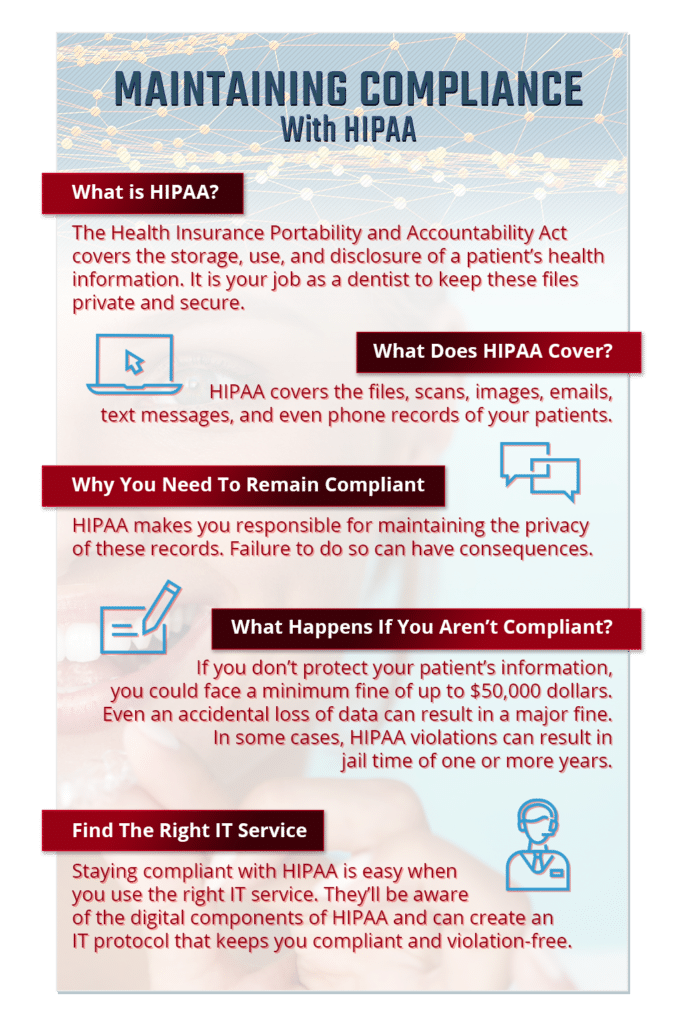 Tech Rockstars Can Help Your
Dental Practice Remain Complaint
If you run your own dental practice, you know how much time and energy you invest in your work already. Adding the stress of maintaining your HIPAA compliance is simply too much, so we are proud to offer you our managed IT services. After a quick consultation, we can automate and manage many of your HIPAA compliance tasks for you.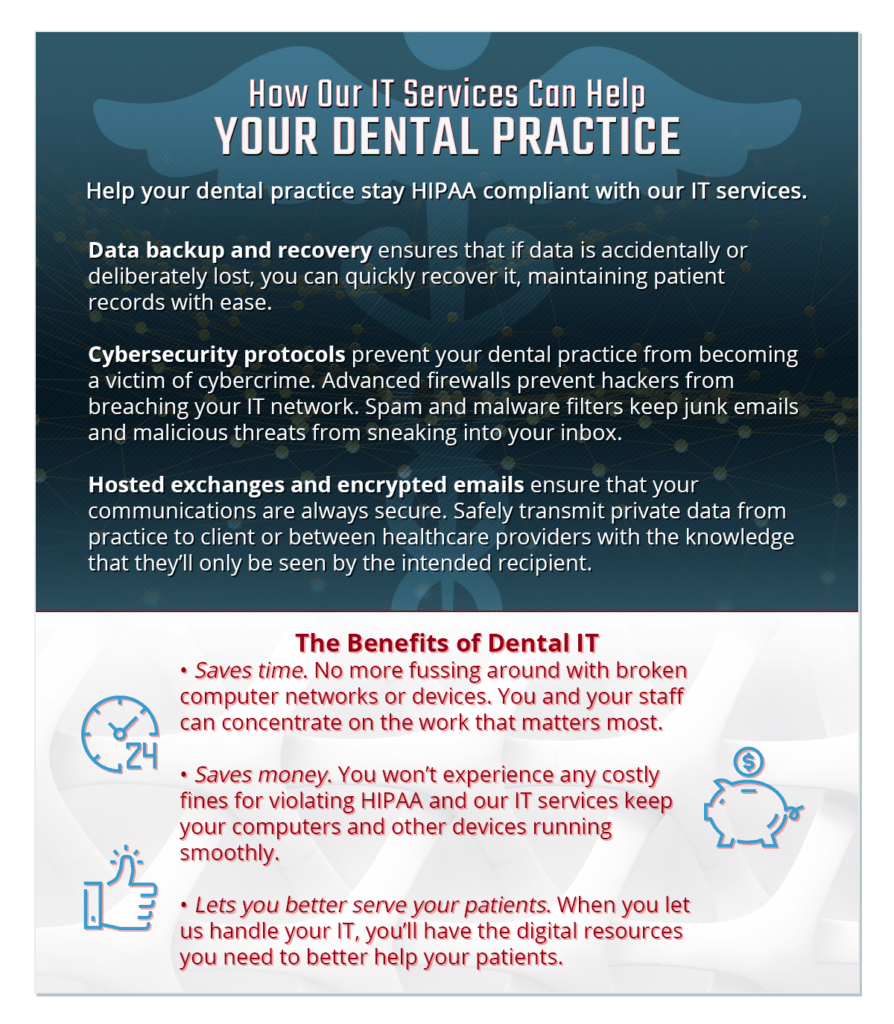 Data Backup and Recovery
for Your Dental Practice
In the past, it was easy to keep your patient records secure, as they were simply locked into a filing cabinet. Today, files are saved on hard drives, thumb drives, and in cloud storage. Having your systems connected to the internet leaves them vulnerable to attack from hackers and other criminal elements. Use our secure data storage options to protect all of your patient's private information, and utilize our data backup and recovery services to ensure that you always have access to this precious information when you and your patient's need it most. Finally, our IT specialists can offer you insights on how to best preserve the confidentiality, integrity, and availability of your patients' health information.
Cyber Security for Dental Practices
A common line of thought we hear from our dental clients is something like "Well, I'm just a dentist, what would hackers want with my data and information?" The answer might surprise you. Hackers and cyber criminals are increasingly targeting medical fields to gain access to the personal information of patients. They can use this information to open credit cards, exploit any stored financial information, and more. Your field and the size of your practice doesn't mean you're immune to cyber attack. Indeed, Dentist's Money Digest found that in the last quarter of 2016 alone, more than 700,000 hacking attempts were made against healthcare organizations. Hackers are targeting dental practices because they are repositories of valuable data like names, addresses, Social Security numbers, and even banking information.
Interestingly, hackers are going after more than just your computers and storage devices. They're also attacking the devices that are connected to your network, like X-ray machines. In any case, they're looking for any way they can gain access to sensitive patient information. Cyber attacks result in an obvious HIPAA violation, a process that your practice may not be able to afford and may not recover from. It's estimated that nearly 20 percent of small businesses do not recover from a cyber attack.
Why Your Practice Needs Cyber Security
The fact is, you can't afford to cut corners when it comes to IT security anymore. Even if you have team members who are tech-savvy, they likely do not have the skills or time to prevent any future cyber attacks. That's why it's important to hire a managed IT service like the Tech Rockstars to take care of it for you.
How Our Security Services Help Your Practice
Tech Rockstars can create a cyber security protocol that works with your business and your budget. From basic systems to advanced networks, we can cover it all. Our spam filtering services keep malicious emails out of your inbox while our firewalls protect your network from malware and ransomware. This reduces the chance of a successful cyber attack, and saves you time. Not only that, having an improved cyber security protocol keeps your dental practice competitive with others in your area. Because you're working without interruption, you and your team can get more down in the day.
Make managing your dental practice's data and technology easier by contacting Tech Rockstars, Inc. today! We're ready to leverage all of our resources to help your dental practice operate more efficiently!
Hosted Servers and Exchanges
For Your Dental Practice
One of the easiest ways to remain HIPAA compliant is by maintaining detailed records and storing them securely. Fortunately, Tech Rockstar offers a suite of hosted services that make this easier than ever.
Hosted Exchanges
There's no more need for an in-house server when you work with Tech Rockstars. Our servers are up-to-date with the latest security measures and products, including premium spam and malware filtering. With HIPAA compliance a concern for dentists, you can rest easy knowing that we can offer you a server that is tailored to your needs. With e-mail becoming an increasingly popular communication medium, your practice will need a mailbox that can keep up with the demand placed on it. We offer unlimited mailbox space, with features that make it easy to manage, archive, and share emails within your practice and with your clients and partners.
Email Encryption and Services
We take our server and exchange hosting services one level deeper by providing you with email encryption. Your practice undoubtedly uses emails to send and receive electronic health records. With end-to-end encryption and other security features like E-Signature, the confidentiality and integrity of your emails are maintained.
What Our Competitors Are Lacking
No More Down Time
When you're helping dozens of patients every day and working with dozens more insurance companies, medical suppliers, and other dental partners, you can't afford to have your IT network stall. We'll keep your practice running smoothly.
Secure Data When You Need It
Don't dwell on the thought of data breaches or hackers any longer. With our complete suite of security services, in addition to our data backup and recovery processes, and of course our hosting services, you'll always have access to the data you need right when you need it. That means so more interruptions and a higher level of service and care for your patients.
Responsive, Thorough IT For Your Dental Practice
Your patients trust you to provide them with an unrivaled level of care. We promise to do the same for you. We're not just an IT service, we're your dedicated IT partner. With free quotes and site visits, we're ready to start working for you right away. With years of experience and a passion for our work, you can rely on us to tackle any IT issue you face and take care of it completely. We're focused on the success of your dental practice and want to offer you only the highest quality IT support we can. By providing you with a trouble-free IT experience, we know that you can better help your patients. Simply put, we know that we're doing our job right when your dental practice is running smoothly.
Experience The Tech Rockstars Difference
Start enjoying a higher quality IT experience today. We proudly serve dental practices in Monrovia, Burbank, Glendale, Pasadena, and Sherman Oaks. Contact the Tech Rockstars now and get a free quote for our service packages.