Managed IT services
Instant Quotes & Consultations. Find Out How We Can Help Your Business Today!
Tech Rockstars Managed IT Services
The way that companies do business is changing. With the ever-increasing reliance on computers to streamline day-to-day functions and the decision-making process comes a host of problems and issues that seem to grow by the day. While some businesses address these issues by hiring an in-house IT department, others are quickly realizing that their IT concerns are beyond the capabilities of just one department.
What businesses need in these moments is outside support. A group that can rise to the challenge, alleviate their IT problems, and offer them a rockin' experience, all at the same time. That's where Tech Rockstars, Inc. comes into play. We're a full-service managed IT company, excited to serve businesses in and around the Monrovia area.
What is a Managed IT Service?
If your business is new to the idea of having an IT service of any kind, distinguishing one form of IT support from another might seem a little confusing. A regular, in-house IT service is made up of staff that is on your payroll and a part of your business. They respond to and address any computer or network issues you may experience. This is because in-house IT is primarily a reactive group, meaning they respond to problems as they occur. There is little incentive for them to proactively address issues because generally, there is little time for them to carry out proactive measures.
But depending on the size, and scale of your business, your in-house IT service might not be able to keep up with the demands your business puts on them. For smaller businesses, there might not be a need for an in-house service, as your business cannot afford to pay for the staffing costs. However, in both of these situations, these businesses still need some measure of technological support. A managed IT service then, is the ideal supplement to your existing IT practices or can be used as your dedicated IT support group if you are in need of one.
Why You Need a Managed IT Service
The Importance of a Managed IT Service
Managed services are simply a superior form of IT support for your small business. They are an important part of any business's success for a variety of reasons.
Focus on Success
Our managed IT is focused on the success of your business. At Tech Rockstars, we want nothing more than to serve you and offer you the highest quality of IT support. We want to limit or prevent the problems you face because we measure our success based on yours. When your business is running efficiently, then we know our services are effective.
Business Growth
Outsourced IT can help your business grow. With fewer IT problems, your business will likely grow and expand. Naturally, that will necessitate the expansion of your IT infrastructure to include new computer networks and servers. So what IT systems will your business need in a year? Two years? Five? As your dedicated IT support partner, we'll be right there with you as you expand. We can offer you insights into which technology your business needs, and we can set up safeguards to ensure your transition to new hardware and software is carried out quickly and effectively, minimizing downtime and allowing your employees to rapidly make use of your powerful new technology.
Free Up Your Time
Managed IT frees up your time, so you can focus on what's important. As a small business owner, you are undoubtedly a wearer of many hats. You manage staff, budgets, products, and services. The last thing you want to worry about is whether your computers and servers will work on Monday morning. Let us take care of your technology so you can put your energy into the work that inspires you.
What Are the Benefits?
By partnering with a managed IT service like Tech Rockstars, your business can enjoy unique benefits that an in-house IT service cannot provide you. While the benefits of managed IT services could seemingly fill a book, our customers seem to highlight a few key features whenever we ask them why they chose Tech Rockstars for their IT support.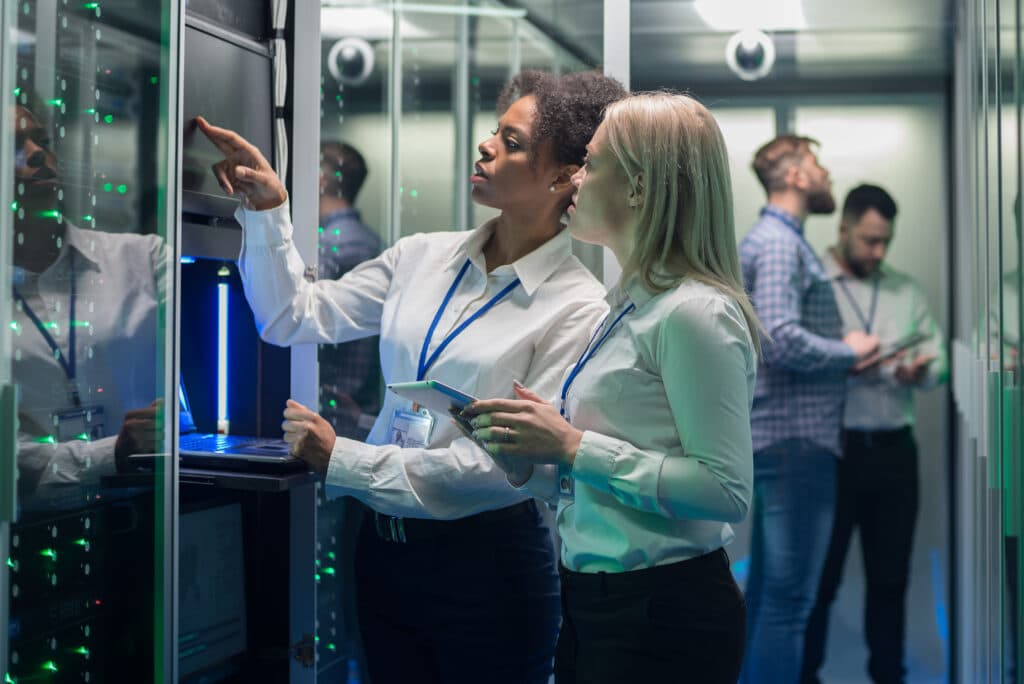 The Tech Rockstars Difference
Your IT Partner
Unlike other managed IT services, we believe in partnering with our clients, not taking control of the processes already set in place. With that in mind, we have spent our time working to enhance our clients' customer service experience and to improve the way their network helps them do business. For most companies, technology is the number one budget item behind human resources — but it's often the most difficult one to understand. Our managed IT services in Monrovia can help.
With our proactive managed IT services and solutions, we keep an eye on your current technology to help prevent any network failures. We combine regular preventative maintenance with real-time monitoring of your most critical network and desktop devices. It's time to rely on and trust in your IT services. Have confidence in your technology and peace of mind in your data's security by choosing Tech Rockstars, Inc.
Whether your network has begun to cut in and out, you've had issues with hackers and compromised data, or even downtime due to an IT outage, it's time to call an IT outsourcing team who can help. We help businesses in Monrovia like yours avoid incidents, protect their technological investments, and reduce overall network downtime. Reach out now to get started.
Offering The IT Solutions
Your Business Needs
Perhaps one of the greatest challenges that businesses face today is managing their computer networks, and predict when and if it will fail. With our proactive managed IT services and solutions we can prevent many network failures from ever happening. By combining regular preventative maintenance and comprehensive real-time monitoring of your critical network and desktop devices, we ensure the reliability and stability of your IT assets.
This solution is so cost-effective, our customers see almost immediate results. A regularly maintained network means fewer failures, yielding higher productivity and savings on IT support costs for you. At the same time, your exposure to security risks is dramatically lessened, and frustration from unstable IT resources almost vanishes. We allow our customers to focus on their core business functions by taking the worry out of owning a computer network.
Avoid incidents: Using advanced troubleshooting and rapid analysis, we resolve network issues as soon as we detect them and before they have the opportunity to grow into failures or disruptions. Additionally, our IT support may not even cost a dime with the service hours included in your service package.
Protection of your IT investment: With ongoing professional maintenance, your most critical network devices will always be as stable and reliable as the day they were first installed.
Reduced network downtime through proactive maintenance: Through regular, preventative maintenance activities designed to keep your network operating efficiently, we reduce the number of emergency incidents you'll encounter.
24×7 Network Performance Monitoring

constantly tracks the performance of your network – bandwidth, errors, and other key indicators. This ensures all of the critical network devices are healthy and functioning optimally.
Server/Workstation Health & Performance Monitoring verifies your organization's computers are running in a stable and secure fashion. We monitor your networks and other IT devices for health, error conditions, and overall performance.
Windows & Third Party Patch Verification ensures your PC's and hosted servers are running the most recent versions of operating software. The results are a highly secure and efficient network environment.
Management of Your Backup Solution protects your data from damage or loss. We monitor, manage, and test your custom data backup plan, as well as re-evaluate the plan to verify it is optimized.
Firewall Performance Monitoring & Maintenance monitors your corporate firewall to alert us to potentially malicious threats or attacks and ensures your firewall remains up-to-date with the latest patches, firmware, and software version updates.
Antivirus Management for Servers & Workstations ensures your antivirus programs are functioning properly and that the latest industry security updates to your systems are being received and installed.
Trust the Tech Rockstars to Run Things Smoothly
Since 2003, the talented and knowledgeable IT support team at Tech Rockstars has been helping businesses and individuals in the Monrovia area. We're ready to work closely with you to develop a complete IT solution for all of your needs.
We are dedicated to providing you with the finest in IT support so you can spend more time focusing on the success of your business, and less time on your computer problems. With our in-store and on-site services, we can quickly respond to any of the IT issues that you might experience. Don't waste any more time struggling with IT concerns. Connect with Tech Rockstars in Monrovia today to get started!
Remote Response
Technicians work remotely on your network to resolve issues
PC Care & Maintenance
Ongoing preventative maintenance of your PC's to make them reliable and secure
Backup Essential
Monitoring the success of your onsite backup solution (hosted backup service starting at just $.40/GB)
Security Necessities
A secured network perimeter, policies, and managed virus protection. Includes the #1 ranked antivirus Bitdefender, protecting systems against viruses, malware, and rootkits.
Web filtering
OpenDNS works to block users from malicious websites, phishing sites, and any custom websites administrators wish blocked, such as inappropriate content.
Network & Asset Reporting
Network health reporting, quarterly reviews with our managed IT experts, and scheduled asset auditing
Network Control
Monitoring and continuing maintenance of your LAN, WAN, domain, and VPN
Network Maintenance
Preventative maintenance plan with allowance for client support requests
Email & Messaging Services
Management of your email, spam filtering, and mobile messaging services
Email Hosting
We can host your email application or server for the highest reliability possible, starting at just $10 an account
IT Procurement Assistance
Our IT consultants work with you to help you make optimal technology choices