Cyber Security
Instant Quotes & Consultations. Find Out How We Can Help Your Business Today!
Tech Rockstars Security
When most small businesses discuss crime and security, their thoughts immediately jump to smashed windows and stolen products. But in the 21st century, the greatest threat to small businesses isn't smash-and-grab theft, it's cybercrime. Many small- and medium-sized business owners feel that they are immune to cybercrime, as only large businesses make the news when they're hacked. The reality, however, is that small businesses have more to lose from cybercrime and are just as at risk. Your business may not be able to afford a cyber attack, making cybersecurity a vital part of your business plan. Fortunately, Tech Rockstars is here to help with our premier IT security for businesses all across the Monrovia area.
Is your business at risk for cyber crime?
While more and more businesses are embracing computers and other digital solutions to keep their operation running smoothly, few of them are keeping those assets safe with comprehensive, or even basic IT security protocols. While some owners feel that their small company flies under the radar of cybercriminals, the reality is that their small business is at greater risk than they realize.
Cyber Crime By the Numbers
It's hard to put a price on a sense of security, but it's easy to put numbers to statistics. A study conducted in 2018 by data giant, Verizon, found that 58 percent of malware victims are small businesses. A concerning figure, but not unexpected when a similar study in 2017 found that threats against cybersecurity was on the rise. From 2016 to 2017, the number of small businesses that reported being the victim of a cybercrime rose from 55 percent to 61 percent.
What Do Those Numbers Mean To You?
If you're not one for numbers, here's the takeaway: Cybercriminals are deliberately attacking small businesses because they lack the security protocols to keep them out. This is largely due to the financial feasibility of securing their IT assets. Enterprise level security can be costly, and for some small businesses, not something they can afford. Cybercriminals are also attacking small businesses because business owners don't feel that they're worth attacking. In fact, the majority of small business owners don't feel that they are at threat of cyber attack at all.
This false sense of safety through size can have a major impact on your business, however. It's estimated that small businesses across the United States lose nearly $75 billion to cybercrime every year and that 20 percent of small businesses never recover from a data breach.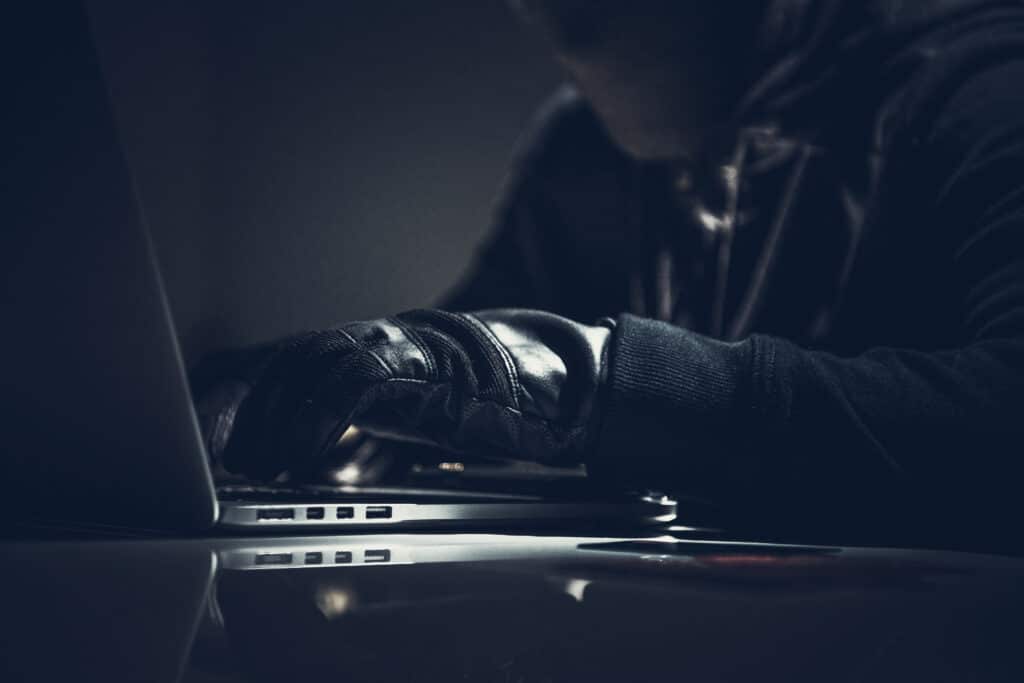 Why Small Businesses
Need Cyber Security
Ultimately, small businesses can't afford to cut corners on cyber security. As cyber attacks grow increasingly more complex and frequent, most small businesses aren't doing enough on their own to stay safe. This is where managed IT and security Services like those offered by Tech Rockstars in Monrovia come into play. We've specialized in cyber security so that you don't have to. A small investment in security services such as those we offer pales in comparison to the immense financial damage you could suffer should you fail to adequately protect your business data.
Cyber Security and You
While the cost of cybercrime can be immense, protecting your business is easier than it sounds. By practicing good IT principles, and working with a cyber security partner, you can protect your business from any number of threats. It starts with familiarizing yourself with what kind of threats you're facing, and then it moves on to developing security protocols that enhance your business operations.
Cybercriminals are typically after a certain kind of information. They're interested in customer credit card numbers, personal identifiers, or even private details like health and financial information. Data like this can be used to make fraudulent purchases, open lines of credit, and more. Criminals access this information by using a variety of attack methods on your IT infrastructure.
Easy Ways You Can
Start Protecting Your Business
Fortunately, your business can limit your risk of being attacked by cybercriminals by taking a few proactive measures. Cyber security is something that needs to be practiced at every level of your business, from hourly workers, to salaried CEOs. These tips can keep your business safe.
Do More With Less
Modern business is driven by the accumulation and distribution of data. As a result, businesses are collecting more data than ever before. However, you should be selective in what kind of data and information your business stores. Only store data that is important to your work and the experience of your customers, clients, members, patients, etc. Anything extraneous doesn't need to be stored. Excess data taxes your storage units, like cloud platforms, or even physical storage spaces. Not only that, collecting more data means that you will garner more attention from cybercriminals. Similarly, only store information for as long as it's pertinent and useful.
Keep Your Employees Up To Date
They say that to err is human, but to really mess up you need a computer. While this is true, the unfortunate reality is that the opposite is true as well. Most cybercrime is the result of human error. These unintentional slip-ups or mistakes on the part of your employees can lead to massive data breaches. Fortunately, training is an easy and effective way to prevent most of these mistakes. Your business should have clear expectations of your cyber protocols and systems, and should be easy to learn and implement. This helps to maintain your cyber security, and can even make your workday more efficient.
Set Up Protections For
Your Most Valuable Data
If you're storing private or sensitive information, like records for your healthcare or dental patients, it's important that you limit who can access this information, and that includes your own staff. You can do this by creating levels of access so that only specific individuals can access specific information. Simply put, not everyone needs to access every piece of data that you're storing.
Take Payment Processing Seriously
Fortunately, most digital payment processing programs are using more security measures these days, but that doesn't mean you should let-up on your end. Make sure that your payment system is separated from your other computer workstations, and don't use the computer that processes payments to surf the internet or do other work on it.
Use Strong Passwords
The next step is to password protect your information and data. Do not rely on simple passwords like "password," or "12345," as these can be easily guessed and lead to data breaches. Instead, create complex passwords. Your complex password should include:
At least 12 characters. The minimum is typically regarded as 12 to 14 characters, but longer is better.
Numbers, symbols, and both capital and lower-case letters. Using a mix of these features makes it difficult for hackers to figure out your password.
Obvious dictionary words of word combinations. Don't use just one word, and don't rely on common strings of words either. For instance, "greeneggsandham" or "redtruck" as these can easily be discovered.
Clear substitutions. Forget the leet speak, and don't swap letters for numbers in your passwords, like "b1gd0g". Substitutions like these are easy to figure out.
How Our IT Security Services Can Help
While the tips above can go far in keeping your business safe, they cannot possibly prevent every kind of cyber attack. To keep your business's information and data truly secure, you'll need the help of specialists like Tech Rockstars. Staying ahead of cyber security issues, recognizing a cyber threat, reacting to it, and then establishing security protocol to prevent future attacks can be a lot to take in, especially if you're already focused on the dozens of other things that require your attention every day. That's why we're here to help! We take the stress and effort out of cyber security by implementing it for you.
CYBER SECURITY CUSTOMIZED TO YOUR NEEDS
As a trusted Managed IT Services partner, we can create a cyber security protocol that fits the needs of your business and your budget. We offer services that start with the basics and move on to more advanced systems. Basic packages can filter out spam and viruses from your email inbox, and we can set up powerful firewalls to keep malicious elements out of your IT networks. If storage and security is an issue, we offer off-site email and server hosting that makes use of our own secure digital storage infrastructure. You'll rest easy knowing that your data is stored securely and safely.
Of course, if your data is breached, there's no need to panic. With our comprehensive data backup and recovery options, you'll always have access to a copy of your data whenever you need it most. Don't let malware and phishing scams interrupt your workflow, use your data on your own terms.
IMPROVED SECURITY CAN KEEP YOUR BUSINESS
As your cyber security experts, we do more than just keep your information safe. We also keep your computer networks up-to-date with any changes in technologies or trends. Not only are your computer networks safe, you'll stay competitive with other businesses. As technology changes, we'll advise you to make updates and upgrades as needed so that your business can continue to run smoothly and even expand. Ensure the security of your business today and beyond with a comprehensive security solution offered by Tech Rockstars.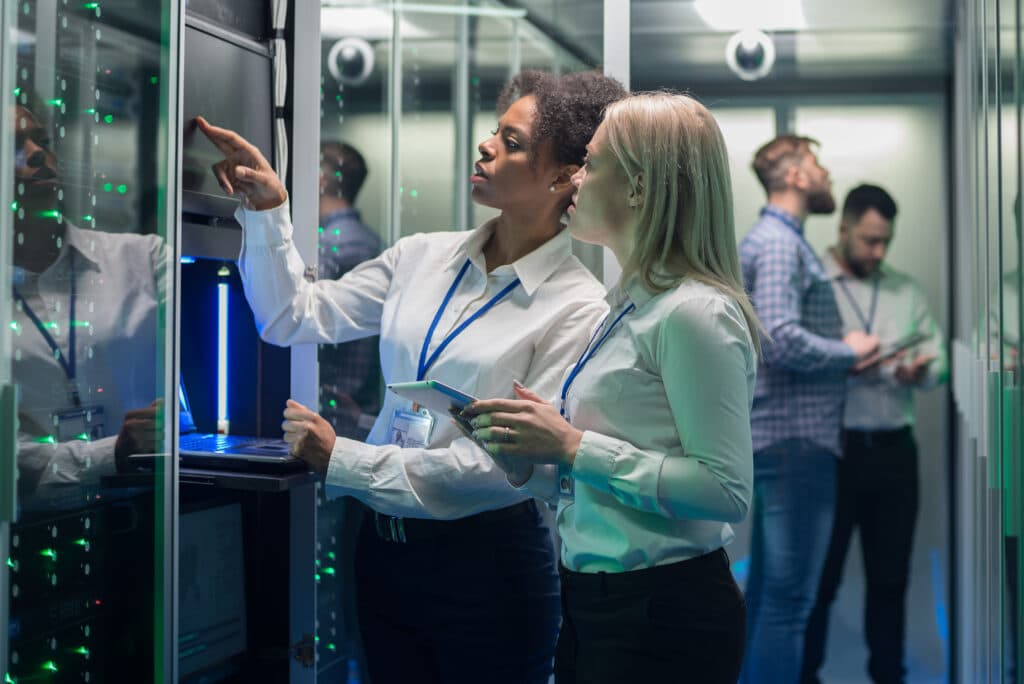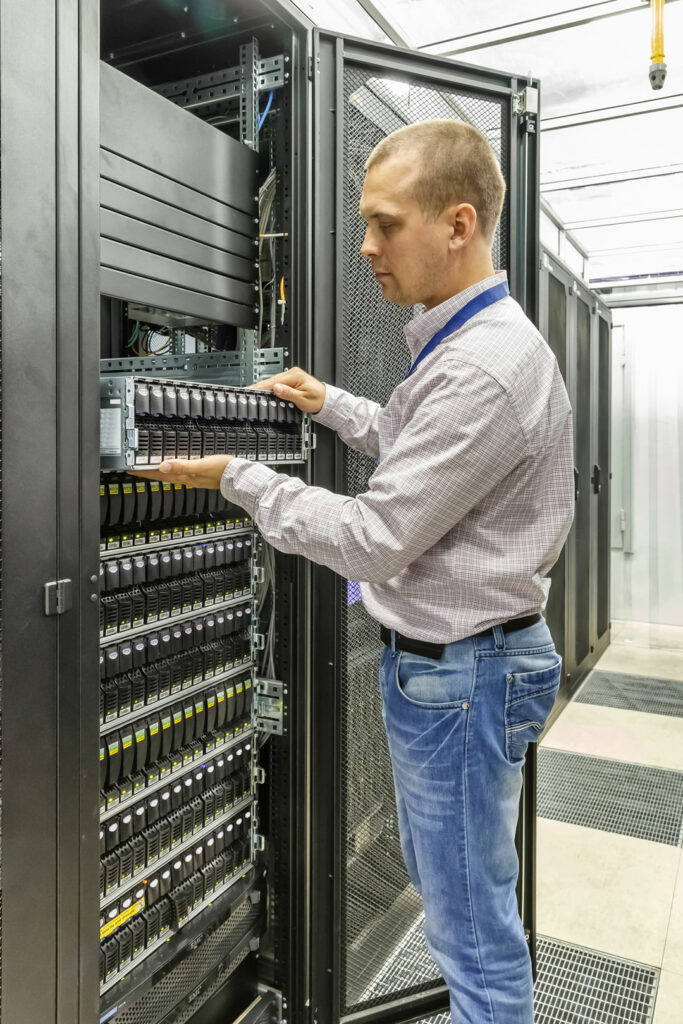 The Tech Rockstars Difference
While it is possible to combat cyber attacks on your own, there is no guarantee that your data and sensitive information will be protected from your assailant. The best way to ensure everything remains secure is to implement top-level cyber security. The best way to do that is to partner with the cyber security specialists at Tech Rockstars, Inc., California's Top Rated Local® IT Service.
Business owners and managers across LA, Orange, and Riverside Counties need to understand that they face threats at nearly all times. From ransomware attacks to cybercrime, any business can become affected with just one breach. Tech Rockstars, Inc. is here to help you understand the possible ways a hacker could enter your system and steal sensitive data. From basic spam and virus protection in your emails, or implementing a thorough screening system to constantly check your database, our IT support team keep your company clear of threats and data breaches.
Fight potential threats and combat all the risks to your technology by choosing a team who is ready to assist you. Our goal is to keep your data safe, no matter how sensitive your data may be, so that you can focus on running your business. We're experienced in serving a variety of industries, all with sensitive and important data. Ask us about our IT and security services for fields like accounting, legal firms, dental care, and even healthcare institutions. It would be our pleasure to serve you. Contact us today to arrange for your new cyber security measures from Tech Rockstars and our Managed IT Services.